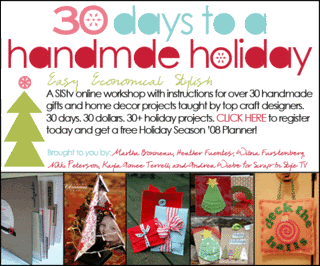 This online workshop is designed to help you stretch your dollar this holiday season! At the end of the thirty days, you should have over 30 holiday projects/gifts completed that cover every area of your holiday celebration! From a gorgeous catalog quality tree skirt, to an easy Christmas morning journal meant to ensure those special moments are recorded, to fantastic customizable Christmas cards. This is more than just a class, it's a tool to give you a well organized, beautifully designed and ultra affordable holiday season.

Each student will also receive a free all encompassing Holiday Season '08 Planner, where you can keep everything you need for this holiday season and the 30 Days to a Handmade Holiday class together in one place. You'll get a calendar, budget planner, gift lists, shopping lists for groceries and class supplies, family activity ideas and more! Everything you need to ensure that this class and your family's holiday season runs smoothly and stress-free, not to mention budget-friendly. We know that's a biggie.

I bet you have some questions. Like, how does the class work, or what will we be making? Good! We have some answers!

Q: So how does the class work?
A: Each day your instructor will post a new lesson. It will have step by step instructions, plus a printable PDF so that you can save the project to finish later if you wish! Your supply list, plus the estimated cost and time will be posted with each lesson. Each lesson will also be marked with required skill level, as well as ideas for alternate uses for the project. Some things you will want to give as gifts, but some things you're going to want to keep for yourself! Each day will be assigned to one of the following categories: Décor/Gifts, Gifts To Give, Entertaining/Kids Activities, and Correspondence/Gift Presentation. Your planner's calendar shows each day's project and is color coded according to the category.

Q: Who is the instructor?
A: This class is being taught by 6 SIStv Fashionistas! You'll be learning projects from Martha Bonneau, Heather Fuentes, Wilna Furstenberg, Nikki Peterson, Kayla Aimee Terrell and Andrea Wiebe. The bonus Holiday Planner was designed exclusively for us by Scrap In Style's Founder, Jeanette Herdman.

Q: Do I have to be present in class every day?
A: Nope! If you miss a day, just click on that day in the "Lessons" folder and get your printable PDF instructions. Then you can catch up on the lesson whenever is convenient for you! However, we have scheduled the classes in such a way that you will have the most success if you complete the projects in the order that they're presented. Some of them can be used for Thanksgiving AND the Winter Holidays, so those are given earlier in the schedule. We recommend that you stay with the schedule as closely as possible, as opposed to just waiting and printing everything out all at once. Chances are you'll find things a bit overwhelming if you do that, and we want you to succeed at this! We don't see this as just a bunch of Christmas Crafts, but more like a "system" to help you stay on task and on budget while creating the best holiday season you're family has ever known!

Q: What can you tell me about the projects?
A: You'll be making some extraordinary projects in this class, from scarves (no knitting required!) to wreaths to recipe books, gift baskets and more! The class projects include several Print At Home projects, like customizable childrens activity books or holiday place cards and menus that you can just print, wrap, and give! The Print At Home projects come 95% complete, so you just add a few finishing touches and voila! Instant holiday gift!

Q: Do I need to purchase any kits for this class?
A: You're not required to purchase any kits, however, some projects such as the recipe book have pre-assembled kits available for purchase to make it easier on you! You can see the recipe book kit below. The free planner includes your recommended supply list for each day, so if you would like to purchase supplies in advance, we'll give you a 10% discount when you register for the class!

Q: Sign me up! What all do I need to know to register?
A: The class begins October 30 at 10am Central. It includes daily lessons, printable PDFs several bonus projects, live chats, free goodies, and student discounts to the SIStv Boutique! To register, just CLICK HERE!